Go Viral provides a framework for sharing knowledge and online promotion skills in Central Asia
#Archive
The Go Viral Central Asia networking platform brings together digital communication experts and aspiring entrepreneurs and content creators to strengthen connections and share experiences.
The COVID-19 pandemic has become a reason to go online and learn about the online promotion of products and services, even for those who have traditionally carried out their activities only offline. The sudden change of focus and such a transition was a real challenge for many entrepreneurs. It was an effective method of online promotion that became the subject of training sessions called #GoSkillz, which IWPR CA held in Bishkek, Tashkent, and Almaty.
Participants from Kazakhstan, Kyrgyzstan, and Uzbekistan came together for four days in December 2021 to discuss and explore online promotion.
The first day of training was devoted to networking and team building, which fostered communication and collaboration among members of the Go Viral community.
In the following days, local experts and trainers talked about the theoretical and practical components of content creation, such as market analysis, target audience identification, key message generation, determining communication channels, and developing a content plan.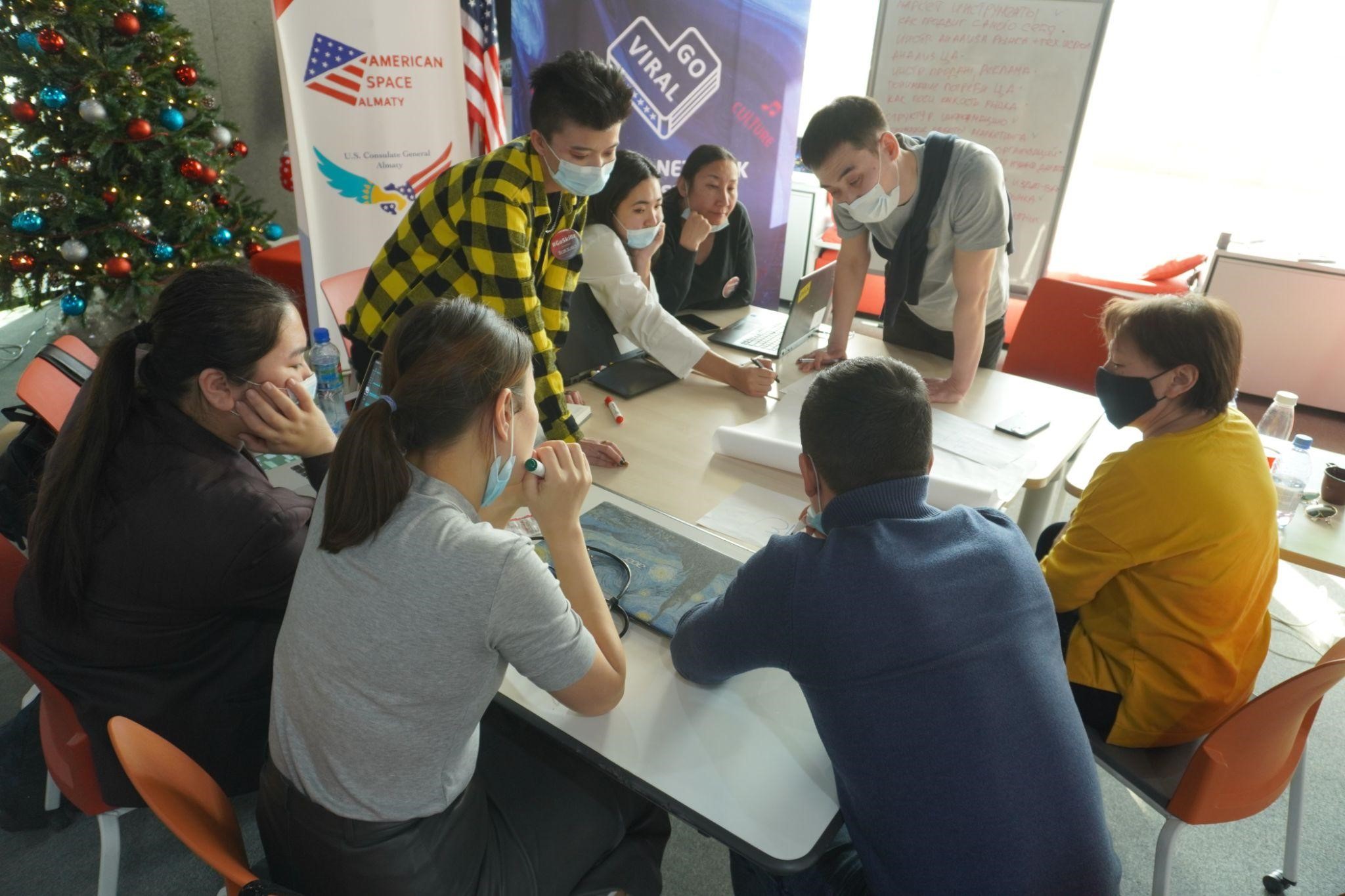 The trainings gave participants the opportunity to practice their skills and apply their knowledge in a supportive learning environment. To ensure the broadest possible geographic coverage, IWPR supported participants from rural/remote areas. Thus, four participants from Tokmok, Osh, and Jalal-Abad went to Bishkek, and four participants from Nur-Sultan, Uralsk, Aktau, and Atyrau went to Almaty.
"The United States Diplomatic missions across the region support this initiative, believing that interconnection and cultural exchange are critical to citizens' economic prosperity and well-being in Central Asia," said Shayna Cram, Public Affairs Officer, U.S. Embassy in the Kyrgyz Republic during her opening remarks. "Today, you have an excellent opportunity to enhance your digital skills, connect with like-minded people, get inspired, and learn from comms, marketing, and storytelling experts" noted Ms Cram.
"Thank you so much, you are an incredibly strong team that gives people a different perspective on their activities and life in general! I will probably always thank and remember goviral.ca for the opportunity to participate in this amazing project my whole life. In this project, I found like-minded people, and most importantly – I conquered myself in many aspects! And I realized that everything is in my hands! – one of the Bishkek participants shared her experience in a feedback form.
Go Viral is a platform for networking and a community of representatives from media, business, culture, and technology sectors from Central Asian countries, as well as a regional annual festival. Thousands of people meet, unite, communicate and collaborate to find answers to urgent questions and inspiration, to meet like-minded people, and seek solutions to community and local problems.
This article was funded by a grant from the United States Department of State. The opinions, findings, and conclusions stated herein are those of the author and do not necessarily reflect those of the United States Department of State.